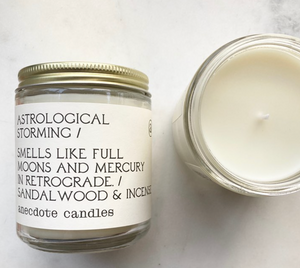 Smells like full moons and Mercury in retrograde.

From Anecdote Candles: Sandalwood & Incense - If it ever feels like things are going haywire, burn this candle for instant satisfaction. Astrological Storming opens with light hints of apple and pear, followed by exotic violet notes and rich base notes of sandalwood and incense.

Standard jar (7.8 oz)

Burns for 40 - 50 hours. Measures 2.6" in diameter and 3.75" in height.
Always follow the safety instructions when burning candles. Please trim wick to ¼" before burning to allow for a clean burn. Allow candle to burn to the edge of the vessel for a longer burn. Do not burn for more than 3 hours at a time. Never leave a candle burning unattended or within reach of drafts, pets, or small children.