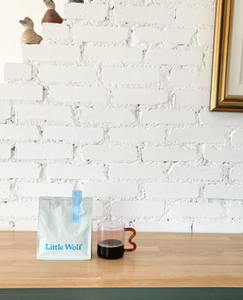 Little Wolf Coffee Roasters is a specialty coffee roaster based out of Ipswich, MA dedicated to helping you fall in love with coffee all over again.
8oz Bag, Whole Beans
From Little Wolf: Tasting Notes: Berry, Chocolate, Creamy

Current Components: 60% Washed Colombia - "Laboyano"  |  40% Natural Ethiopia - Sidama "Dur Feres"
Our Companion Blend is a seasonal blend intended to be enjoyed, like all of our coffees, as both espresso and drip. The components of our blend change seasonally to include the freshest coffees possible, always featuring two coffees that are "companions"; similar but different enough to come together and make something more than the sum of their parts. 
No matter what the current components are, we think you'll find this coffee to be the perfect companion to your morning routine, whatever it may be.