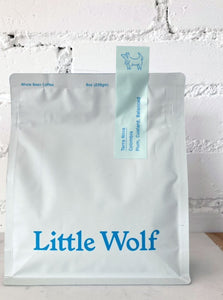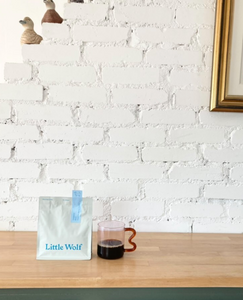 Little Wolf Coffee Roasters is a specialty coffee roaster based out of Ipswich, MA dedicated to helping you fall in love with coffee all over again.
8oz Bag, Whole Beans
From Little Wolf:
Tasting Notes: Plum, Custard, Balanced
Origin: Colombia
Farm/Co-op: El Mirador, Huila
Process: Washed
Elevation: 1650m
Varietal: Caturra, Castillo
Sourced By: Coffee Quest
From our importer:
Terra Nova is the name of a lot within Finca El Mirador located in San Agustin, Huila, Colombia. Finca El Mirador is owned by Jairo Torres, but the entire operation is a family affair and Andres Torres, one of the sons, runs Terra Nova, his own plot. The farm sits at an elevation of approximately 1,650 m.a.s.l. and is 12 Ha in total, of which 8-9 are planted in coffee and the other 3-4 Ha part reserve and part river/stream running along the mountain side. Of the 8-9 Ha of coffee, Andres' lot, Terra Nova, is approximately 3 Ha, with around 5,000 trees of Caturra and 6,000 trees of Castillo. This lot is 100% Caturra. Not surprisingly, Andres puts more effort into the processing of his Caturra trees and when he sends the pickers out, he asks the same of them during this stage. When the cherries arrive to the wet-mill after a day of picking, Andres will start with a manual selection of any immature beans that passed through and then leave the coffee to ferment in cherry, in the tanks, for anywhere from 12-14 hours. The next morning, the coffee is de-pulped and dry fermented again for anywhere from 24-30 hours, depending on the climate. At the end of the fermentation, the coffee is washed in channels (a relatively uncommon system these days in Colombia, but nonetheless one of the best forms) which actually serves two purposes: remove the mucilage that was loosened during fermentation and at the same time also remove the under ripe, overripe and other defects (such as broca) that will float during the washing process. The good, dense beans will sink and be separated out. Upon washing, the coffee is dried in a traditional greenhouse structure, under mesh (to cool temperatures) for approximately 15 days.