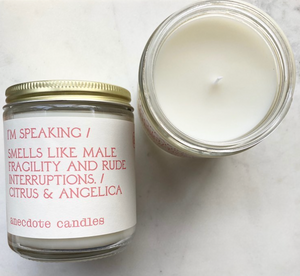 In honor of Madam Vice President herself. 

From Anecdote Candles: Citrus & Angelica - Inspired by the subtle strength of femininity, I'm Speaking is as fresh as it is grounding. Sparkling top notes of citrus, vetiver, and ozone float above a floral medley of violet, jasmine, and earthy angelica. A warming base of sandalwood and amber adds depth and complexity to the fragrance. 

Standard jar (7.8 oz)

Burns for 40 - 50 hours. Measures 2.6" in diameter and 3.75" in height.
Always follow the safety instructions when burning candles. Please trim wick to ¼" before burning to allow for a clean burn. Allow candle to burn to the edge of the vessel for a longer burn. Do not burn for more than 3 hours at a time. Never leave a candle burning unattended or within reach of drafts, pets, or small children.