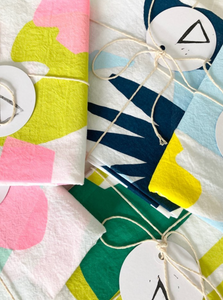 Each of these gorgeous tea towels has been hand made by Massachusetts-based artist, Hanna Taylor. Brighten up your kitchen with pops of color and cheery, abstract images. 
* Sold Individually
* Due to the handmade nature of each towel, designs will vary slightly. 
* Available Colors: Light Pink & Chartreuse, Light Blue & Navy Blue, Chartreuse & Dark Green, Light Pink & Light Blue, and Light Blue & Yellow. (It is safe to say, we love them ALL).