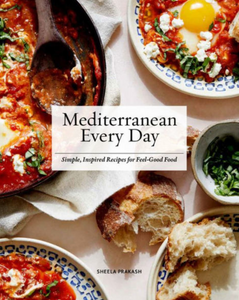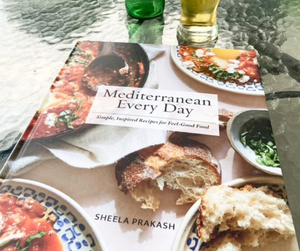 My sweet mother in law got us this cookbook by Massachusetts local author, Sheela Prakash, and it became an instant favorite - we immediately had to get copies for our little shop!
From Sheela Prakash: Cook your way through 75+ Mediterranean recipes that make the most of what's in season—including easy crowd-pleasers like Herby Ricotta; weeknight meals like One-Pan Sausage, Pepper, and Onion Bake; and desserts like Roasted Figs with Dark Chocolate and Sea Salt.

Mediterranean Every Day embraces a style of cooking that celebrates flavor with a relaxed, flexible attitude. It's simple enough for a mid-week meal, but never out of place for a weekend gathering with friends. Beyond the recipes, this is a book that teaches how to build a wholesome, well-stocked pantry. Start off with an introduction to the Mediterranean style of cooking and then choose your own adventure:
 
Three-Ingredient (or Less) Snacks and Cocktails: Whether it's a pre-dinner snack you crave or a simple cocktail to shake up for friends, you'll find easy and fun ideas like Smoky White Bean Hummus, Za'atar Pistachios, and Honeyed Prosecco.
 
Salads and Soups: Enjoy creative salads like The Easiest Arugula Salad, Smoked Salmon Greek Salad, Peak-Summer Panzanella, and a must-try Niçoise. Hearty soups include Lemon Parmesan Soup with Beans and Greens and Roasted Greek Tomato Soup.
 
Beans, Grains, and Bready Things: This non-traditional chapter features a variety of main dish–worthy recipes that can also be served as sides. Celebrate the seasons with a Spicy Broccoli Rabe and Chickpea Skillet, Lentil Fritters with Herbed Yogurt Dip, a Cheesy Brussels Sprout and Farro Bake, and risotto ideas for winter, spring, summer, and fall.
 
Colorful Pastas: Who doesn't love a diet that lets you eat pasta? Enjoy feel-good pastas that are heavy on vegetables. Recipes include Brown Butter Tortellini with Spinach and Hazelnuts, Melted Broccoli Pasta with Capers and Anchovies, Pasta with Burst Cherry Tomatoes and Swordfish, Israeli Couscous Salad with Herbs, Green Olives and Pistachios, and a No-Cook Summer Tomato Pasta.
 
Gathering Dishes: The chapter's name says it all! Whether it's Tuesday or Saturday, and whether you're cooking for just your family or a handful of friends, gather around Salmon in Crazy Water, Thyme Pesto Roast Chicken with Crispy Potatoes, Roasted Cod Saltimbocca, and Baked Chicken Milanese with Lemony Watercress.
 
Desserts: Seasonal and fresh is at the heart of this chapter. Recipes include Greek Yogurt Panna Cotta, Apricot Almond Clafoutis, Rosé-Soaked Peaches, and Chocolate Olive Oil Cake.
About the author: (From Sheela Prakash): Sheela Prakash is a food and wine writer, recipe developer, and the author of Mediterranean Every Day: Simple, Inspired Recipes for Feel-Good Food. She is the Senior Contributing Editor at Kitchn, where she writes about home cooking, wine, and wellness, as well as develops and tests recipes geared toward the everyday cook. She also works extensively with a number of other outlets and brands such as Simply Recipes, Serious Eats, Culture Cheese Magazine, Clean Plates, Swanson, Land o Lakes, and RightRice, and was previously on staff at both Epicurious and Food52.
Sheela received her master's degree from the University of Gastronomic Sciences in Italy, holds Level 2 and Level 3 Awards in Wines from the Wine & Spirit Education Trust (WSET), graduated from New York University's Department of Nutrition and Food Studies, and is also a Registered Dietitian.
Product Details
| | |
| --- | --- |
| ISBN-13: | 9781558329997 |
| Publisher: | Harvard Common Press, The |
| Publication date: | 09/01/2020 |
| Pages: | 208 |
| | |
| Product dimensions: | 8.10(w) x 10.10(h) x 0.80(d) |