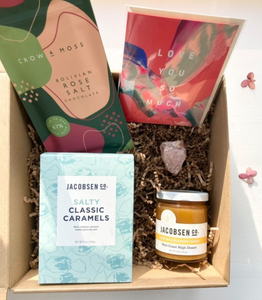 For the Bee Charmer in your life. 
Gift Box Includes: 
* Jacobsen Salt Co. - Wildflower Honey
* Jacobsen Salt Co. - Salty Classic Caramels
* Crow & Moss Rose Salt Chocolate Bar
*Moglea Hand Painted Flat Card - "I Love You"
* Rough Rose Quartz - for a little extra love
**We are a small shop, and try to source almost all of our products from other small/independent makers wherever possible! In the event one of the items shown is sold out, we will replace it with a similar item of equal value. **
**Shipping not included.